Special Materials Developed
Audio Cassette for English Language Teachers – An Introduction to Phonics (Planning & Management):
The general perception is that children learn to read with their eyes. However in reality reading is actually learnt with the ears. A good language teacher constructs and lays the foundation prior to reading by using three methodologies.
The three methodologies used to teach reading to children are:
Auditory Skills: rhyming, short term memory, etc. for ear training prior to the introduction of Phonics.
Phonics: Letter Sound (s) and the different phonic rules.
Memorization of words as whole units: Here children are taught how to connect words and are introduced to reading.
Jaintia Hills has an acquisition poor environment for learning the English language. As a result the District Institute of Education and Training, Thadlaskein, designed specific English language teacher training modules for pre-school and lower primary teachers, based on a combination of the three methodologies. The Cassettes contain letter sounds and songs that are fun to learn and easy to remember. The delightful rhymes and tunes promise to capture a child's attention and imagination.
Joy Bells 1-4
The Institute has also brought out a series of books entitled Joy Bells for classes one to four. These books have integrated a number of areas covered at the primary level into one single book. There are passages for reading, pictures for developing speaking skills, themes from EVS, activities for learning arithmetic, vegetable printing and puppetry. These books also complement the methodologies adopted by the Institute to reinforce language and arithmetic skills in early and primary learners.
The Abacus Project (District Resource Unit and Planning & Management Branch):
The Abacus is an excellent tool that helps learners understand simple as well as complex mathematical concepts. It is a wonderful substitute for rote memorization of tables for young learners. It can be used for teaching other base numbering systems as it easily adapts itself to any base. Constant use and practice will enable learners achieve speed and accuracy, essential for mental maths.
The Standard Abacus
Besides the other items included in the Math kit like:
Counters
Mobiles
Graphs
Counting straws
Flash Cards
Arrow Cards
Learning Clock
(a+b)2 Cards
Number Line
Geo Board
Fraction Wheel
The Institute has also developed an abacus with a supplementary brochure. Teachers are trained do simple arithmetical calculations using the two-tiered Abacus. Once a learner gets used to the movement and position of the beads, he/she would be able to do these functions without actual use of the abacus. This is because the pictorial image of the abacus gets registered in the brain. In this manner students are able to tackle the problem mentally. As a result students start to develop photographic memories which would be very helpful in their overall academic performance. Studies have also indicated that the Abacus enhances the brain power, with positive effects on
Concentration
Accuracy
Memory power
Speed
Analytical skills
Comprehensive Skills
Confidence
Creativity
Progress/Result :
The Institute is in the final phase of a study undertaken in the year 2007 on finding out the effectiveness and impact of some of its training programmes. A more detailed study may also be conducted in the near future to review the progress of these initiatives in a more comprehensive manner.
Plan for integrating initiatives as part of regular class room practices :
Because of the nature and target of these initiatives, the question of integrating them in regular class room practices does not arise. In fact they are intended to be very much a part of school culture. The Institute is also planning to incorporate a 'one-page' lesson plan format based on the Constructivist format and a Cumulative Record prototype which will be incorporated with these 'initiatives' in an ambitious attempt to improve the physical, cognitive, social and organizational dimensions of a school.
IFIC
A model ECCE Centre was set up by the branch in the year 2007. There are at present 28 children below 6 yrs. The Centre at present has:
2 trained teachers
1 activity room
1 reading room
1 writing room
1 retiring room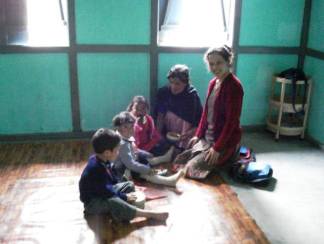 Notice Board
At Present there is no content available for this page, once content will be available would be updated.
Courses
Diploma in Elementary Education
Publication
Education : Development Of Body Mind And Spirit
Joy Bells ( Series 1-4 )
The Standard Abacus ( Teachers' Guide )